Home of the Fortified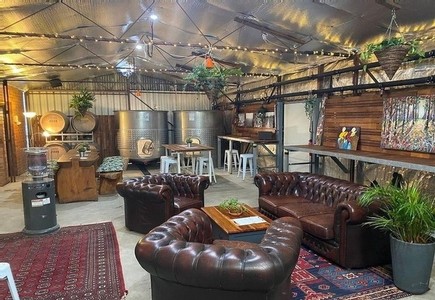 Foggo Wines is known as the 'Home of the Fortified' - with more than 10 unique and out-of-box fortifieds on offer.
We are home to the Quiet Achiever Tawny, Foggo's famous Golden Muscat, FIGJAM Topaque, La Dolce Vita Foggocello, Little Sweetie Late Harvest Golden Botrytis, Oblivion Syrah Fortified and the Gilded Goddess Apera.
We also produce a range of beautiful wines, including our Foggo Crackin' Shiraz, Garnacha, Aged Grenache and crisp and dry Floraison Sangiovese Rosé.
"Our fave in the 'little known hidden gem' category…..no flashy architecturally designed cellar door, restaurant or tourist buses, just beautiful handcrafted wines [and fortifieds]." J.F Heard
Foggo's 20-acre boutique vineyard is located in the heart of McLaren Vale at Foggo Road, just around the corner from Pizzatecca and Settler's Gin.
The main vineyard was originally planted with Shiraz vines by prominent regional growers, the Foggo family, in 1915. Our gnarled, heritage shiraz vines are some of the oldest in the district, and are lovingly tended and hand-picked each vintage to produce the rich and bold shiraz that has become synonymous with the Foggo name. Other grape varieties on the foggo vineyard include Cabernet Sauvignon, Grenache and Chardonnay.
Our vines are watered, nourished, mulched and harvested in harmony with the seasons and as naturally as possible. Many of our heritage vines are handpicked each vintage. Our wines are then pressed and stored in American oak to give them the distinctive foggo richness, aroma and mouth-feel.
Come and visit us soon. We're open every weekend for Wine Tastings and Fortified Flights. Phone 8323 0131 to book, or email us: info@foggowines.com.au